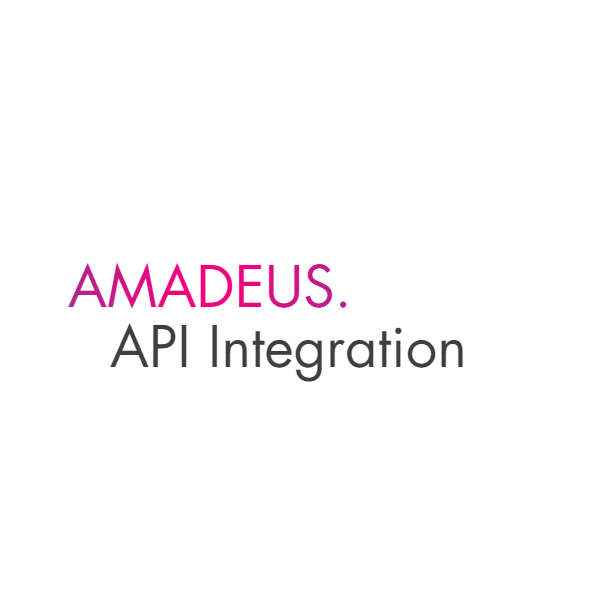 20
Sep
Amadeus Api Integration
Sep 20 2020
What is AMADEUS?
Amadeus is a computer reservation system owned by the Amadeus IT Group with headquarters in Madrid, Spain. The central database is located at Erding, Germany. The major development centers are located in Sophia Ant polis, Bangalore, London, and Boston. In addition to airlines, the CRS is also used to book train travel, cruises, car rental, ferry reservations, and hotel rooms. Amadeus also provides New Generation departure control systems to airlines. Amadeus IT Group is a transaction processor for the global travel and tourism industry. The company is structured around two key related areas—its global distribution system and its IT Solutions business area.
Why AMADEUS?
Amadeus provides the technology which keeps the travel sector moving – from initial search to making a booking, from pricing to ticketing, from managing reservations to managing check-in and departure processes. Amadeus operates in 195 countries with a worldwide team of more than 11,000 people. Amadeus is considered the most versatile GDS. It consolidates around 490 airlines, 770,000 hospitality properties, 69 car rental companies and transfer carriers in 42,000 locations, 43 railway carriers, and 53 cruise and ferry lines.
Amadeus API Services ?
Airline

–

Amadeus airline is committed to implementing IT solution and assistance. This support in approaching the fundamental process of the airline industry. Examples are transactions, booking, ticket reservation, inventory control, exit control and e-commerce. Beside this Amadeus allows upgraded GDS solution which increases the significance of travel operator dissemination. This assists the travel business to grow, extended to the opening of the latest profit stream, improve productivity and support in taking knowledgeable organization decisions.
Hotel

–

Amadeus hotel search API support in connecting the different hotels and small chains and dispense the hotel record and let it visible in the foremost global distribution system of the universe. The Amadeus API works as a strong mechanism for the marketing of the hotel rooms and its characteristics.
Car-Rental

–

The Amadeus online software would assist in enhancing the sale of a rented automobile. Amadeus cars api are effective and simple to understand. For the car-rental businesses, they can allow their information appear able by global multi-channel technology solutions. This lets them arrive at several customer sections.

The other sector that Amadeus supports involves railways, travel insurance and travel businesses such as Amadeus cruise booking engine.
About AMADEUS
Amadeus GDS provides IT Solutions and services to address airlines' key operational requirements in the areas of sales, reservation & ticketing, inventory management, departure control and e-commerce through Amadeus Integration. BDSD Technology Private Limited is known as one the best Amadeus Booking System / Amadeus Software development company in Delhi, India. We provide consulting, development for all the aspects of B2B & B2C Amadeus GDS /Amadeus XML/ Amadeus API Integration. The Amadeus Booking System / Amadeus Software includes Amadeus Airline Reservation System for air booking, Amadeus Hotel for hotel booking, travel packages, Amadeus bus booking, Amadeus rail booking, Amadeus cruise booking ,Amadeus Software, Amadeus GDS, Amadeus Airline, Amadeus Hotel, Amadeus Booking System, Amadeus API, Amadeus Travel Software, Amadeus XML, Amadeus Airline Reservation System, Amadeus Integration and insurance.
BDSD Technology Private Limited provide a strong software for the flight booking. Our company already delivered so many project in travel field. We have a very best and experience team for the API integration. most of them have a 6 to 8 year experience in the API integration field. We have integrated all Domestic and International level API for our client. We are best and one of the most eligible technology companies in a travel field . we have a strong technical skills and also have knowledge about the software development and design. I would like to invite all the travel agent who wants to start their travel agency, for providing them a best software and website. We help you to grow your business and earn profit on your investment. Travel is a big scope in the India as well as in other country also. So if you want to build your own travel company just bring your idea to us and we make sure that you will get what your desire.
Now for more enquire you can contact us on www.bdsdtechnology.com.
Key Features Of Our Amadeus Booking System
Flight XML API Integration (International & Domestic)

Hotel XML API Integration (International & Domestic)

Bus API Integration

Car API Integration

Manage Holiday packages

Agent Registration

Sale Report

SMS My Booking

Hotel Booking CRM

Add Fund / e-Wallets for Travel Agent

Markup Management module

SMS API Integration

Quick View Booking

Chat API Integration

Discount Coupons for agent / Client

Booking Management module

Special Offer / Deals

Trip Advisor plug in integration

Payment Gateway Integration

Customer Login

Agent Login

Discount Management module